Smiles Ignite Minds – Our Innovation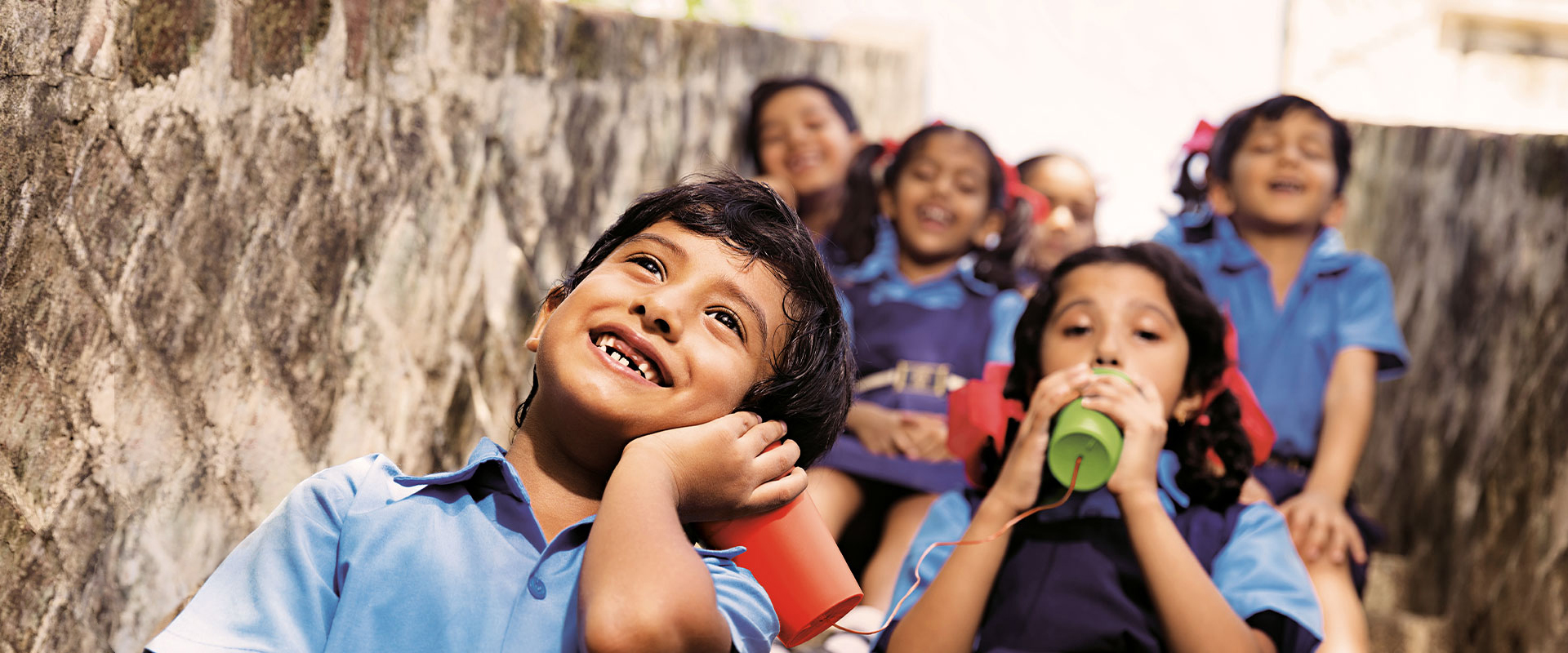 Smiles
Ignite Minds
Our
innovation
As a global leader in oral care technology, Colgate-Palmolive has a legacy spanning more than two centuries in creating breakthroughs that have helped people all over the world experience better oral and hygiene care on a daily basis.
The impact we have achieved and the trust we enjoy from millions of loyal customers, continues to inspire us. We are committed to bringing forth products that continue to deliver a superior performance in protecting oral health and boosting people's confidence.
During FY 2021-22, our brands Colgate and Palmolive have continued to lead with thoughtfully created solutions aimed at enhancing the quality of life.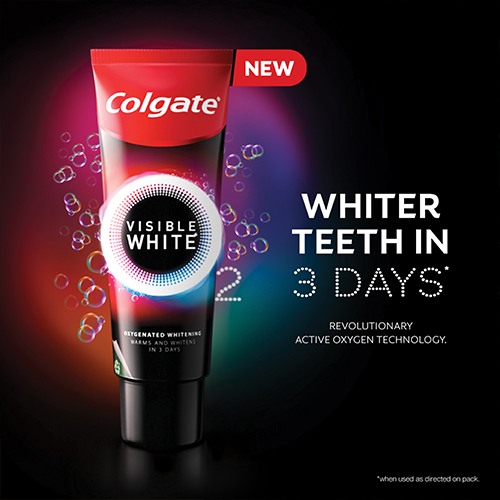 Visible White O2
Visible White O2 furthers our highly popular product in the teeth whitening category. When used as directed*, our Visible White O2 toothpaste with unique oxygen technology whitens teeth from the inside out. Its advanced formula releases millions of warm bubbles of oxygen into the mouth, which then get gently absorbed into the enamel, lightening the micro-stain molecules. It works to ensure the colour of your smile is a radiant white.
*Refers to one shade whiter teeth when used as directed on the pack.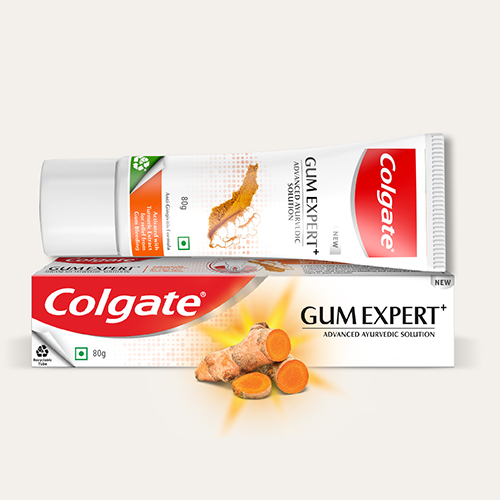 Colgate® Gum Expert
Gum health is a crucial but often neglected part of the general approach to oral care. Colgate Gum Expert was launched to change this.
The unique ayurvedic toothpaste contains curcuminoids extracted from turmeric that are anti-inflammatory and antiseptic in their nature. It is formulated to provide relief from bleeding of gums and reverse early signs of gum infection.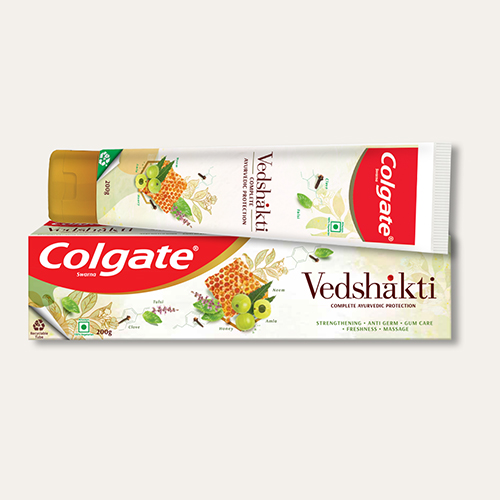 First-ever recyclable toothpaste tubes
As part of our commitment to 100% recyclable packaging for oral care products in India in the coming years, we pioneered the country's first-ever recyclable toothpaste tubes for Colgate Active Salt and Vedshakti variants. The new tube is soft, squeezable and recyclable without compromising on key product attributes like taste, which consumers love and have enjoyed for decades.
Colgate-Palmolive is the first in the world to introduce a recyclable toothpaste tube and is sharing its technology with the industry to support a shift to a greener and much-needed circular economy.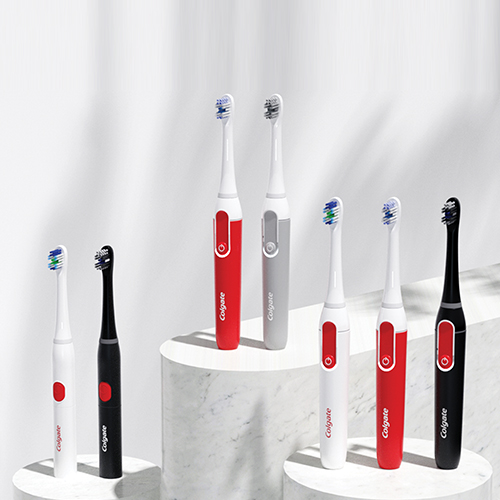 Colgate® ProClinical® Electric Toothbrushes
The Colgate ProClinical electric toothbrushes signify yet another step towards making sure India embraces smart brushing to ensure better cleaning. These electric toothbrushes use sonic technology to more effectively remove the stubborn plaque as well as odour-causing bacteria. The range comprises three variants equipped with different features and is intelligently designed and travel-friendly.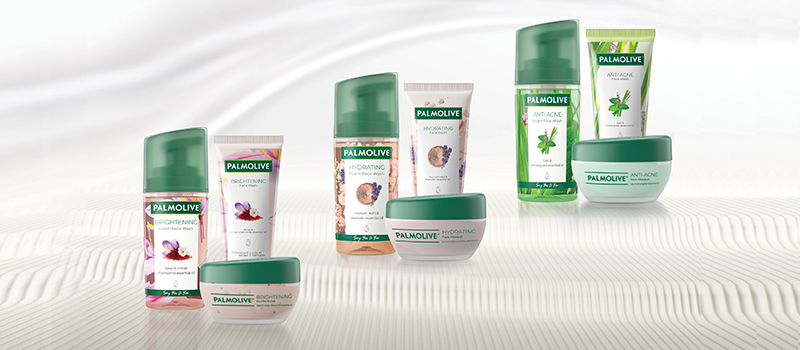 Palmolive Face Care range
The new Palmolive Face Care range inspires women to claim and experience self-love through a premium range of facial care products. Available in three variants formulated to suit most common skin concerns – anti-acne, hydrating, and brightening, these face washes and scrubs are infused with natural ingredients that deliver the magic of natural care.
The Palmolive Hydrating product range: Combines the power of Multani mitti (Fuller's earth) with the soothing effect of lavender essential oil.
The Brightening product range: Conveys the benefits of antioxidants in saffron blended with Roman chamomile essential oil that possesses anti-germ properties.
The Anti-acne range: Cleanses the skin with tulsi leaf extracts combined with lemongrass essential oil known for its role in helping to reduce acne scars.