Embracing the New Normal – MD's Message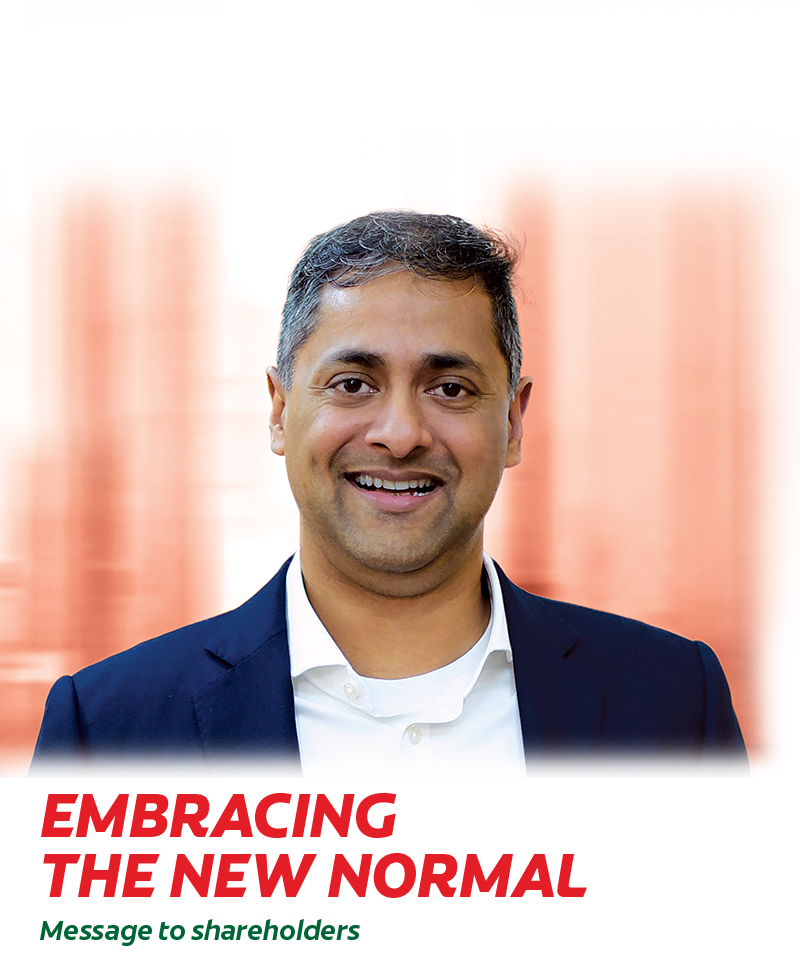 Dear Shareholder Family,
The past year has certainly seen its fair share of ups and downs. Despite the impact of the second wave, we have much to be proud of. To begin with, I would like to pass on my sincere thanks to every one of our partners, customers, suppliers, employees and their families, for their hard work and resilience. On behalf of Colgate-Palmolive, I would also like to show our gratitude and offer our thanks to all the COVID warriors whose tireless efforts have kept everyone of us and our families safe & healthy. Your Company continued its contributions towards building the health infrastructure of our Nation with contributions to various public hospitals through the year.
Despite the external challenges around us, your Company continued its relentless focus to deliver sustainable, profitable growth. As a Company, we delivered a strong financial performance across all aspects of the P&L and balance sheet. Our sales crossed a significant milestone - ₹ 5000 crores, another first, while delivering strong profit growth (+4.1%) and strong EBITDA (31%) and gross margins (67%). I am also pleased to remind you that your Company declared a full year dividend of ₹ 40 for the past financial year.
Our relentless focus on strengthening our brands continues to reflect in the faith our consumers place in our products day in and day out. We are truly proud to have the distinction of being our Nation's #1 most penetration brand (yet again). The loyalty of our consumers is something we hold very dear to our hearts and remain truly humbled by the continued trust they place in our brand and our products.
As a brand, we continue to champion optimism and feel tremendously proud to showcase some real-life heroes who bring this to life everyday with our 'smile karo aur shuru ho jao' communication. Our most recent story features Kiran Kanojia, who despite losing her leg, became India' first blade runner with many marathon wins under her belt. I would also like to offer our homage to Maai or the late Sindhutai who lived our brand belief of everyone deserving a future they can smile about. It is examples like these that continue to inspire us every day.
Our innovation agenda gained even more momentum this past year. We launched some truly revolutionary and superior technologies and products that continue to define the trends in the categories.
Starting with Colgate Visible White O2, a revolutionary new whitening technology that gives you a unique warming feeling as you brush resulting in a smile that allows you to look and feel your best. With our 'Smile out loud' campaign, the brand encourages people to wear their smiles with pride - no matter who you are. We also launched Colgate Gum Expert toothpaste, an ayurvedic product that has been formulated to provide relief from bleeding gums and reverse early signs of gum infections.
The world of toothbrushes also saw some significant innovation - our range of Electric brushes, that are able to give a remarkable cleaning experience.
I am also tremendously excited about the launch of our new Palmolive Face Care range. A portfolio uniquely curated by blending natural ingredients and essential oils in new and exciting product forms like Foaming face washes and souffle scrubs. This range provides efficacious yet experiential solutions.
We remain committed in building capabilities for the future. Our amplified efforts in the world of digital and analytics has resulted in strong growth in our ecommerce business, strengthening our leadership position across platforms.
We remain unwavering in our efforts to drive social impact and protect our planet. We continue to amplify our ESG efforts by bringing to life our SMILE strategy and plans. I am pleased to let you know that we will be issuing our full ESG report later this year that showcases our efforts to bring to life our vision of re-imagining a healthier future for our people and the planet.
Some key highlights from this include our Nation's first ever recyclable toothpaste tube and RecyClean, the first recycled toothbrush, where the bristles are plant derived and are BPA free while the handle is made from 100% recycled plastic.
Our flagship program, Bright Smiles Bright Futures saw its first 'e-avatar' as we leverage digital platforms to continue our efforts to improve oral health at a grassroots level. Our Keep India Smiling scholarship program continues to offer brighter futures for deserving youngsters and our partnership with Seva Mandir allowed to upskill and train more than 10,000 women from rural and tribal backgrounds on digital and financial literacy. Our 'Save water' initiatives saw us replenish thousands of litres of water in water-stressed rural and tribal areas in Amravati, Maharashtra and Udaipur, Rajasthan
As I reflect back on the year, I cannot help but give a special call out to our Distributors and their teams. It was their relentless efforts that made sure our products were available to our consumers when and where they wanted it.
My sincere thanks as well to all our employees and their families. Your hard work and dedication makes us who we are. My heartfelt thanks and appreciation to our shareholder family, for your continued trust in the Company. I cannot help but look into the future with even more optimism.
Best wishes,

Ram Raghavan
Managing Director
Colgate-Palmolive (India) Limited
DIN: 08511606