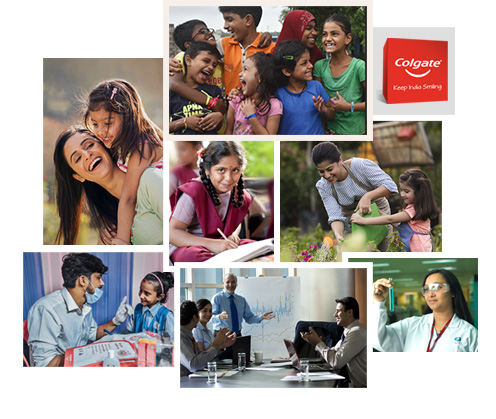 From a modest start in 1937, when hand-carts were used to distribute Colgate Dental Cream, Colgate-Palmolive (India), now in its eighth decade, has one of the widest distribution networks in India. Today, the company is the market leader in the country in Oral Care that seeks to deliver sustainable, profitable growth, superior shareholder returns, and provide its people with an innovative and inclusive work environment. The organization has adopted sustainability, diversity, equity, inclusion and social responsibility strategies that help make people's lives healthier and happier.
The company manufactures and markets toothpastes, toothbrushes, toothpowder, oil pulling products and mouthwashes, under the Colgate brand, and a specialized range of personal care products under the Palmolive brand. We are proud that the Colgate brand is present in most homes, thus creating a healthier and more sustainable future for all. The company has grown to ₹4800 crore plus organization with an outstanding record of enhancing value for its strong shareholder base.
Colgate is a caring, innovative growth company that's reimagining a healthier future for all people and the planet. Our three fundamental values—Caring, Teamwork, and Continuous Improvement are a part of everything we do. As we continue to build a future to smile about, our company values serve as guiding principles for our product development, our business practices, and our relationships among our team members, customers, and people in communities all over the country.
As the leading oral care brand in India, Colgate has endeavoured to spread awareness and enable easier access to oral care across the country for many years, a commitment encapsulated in its Keep India Smiling Mission. Through continuous innovations and dedication, the brand strongly believes in providing consumers a future they can smile about.
Our flagship Bright Smiles, Bright Futures™ (BSBF) program, launched in 1976 to spread awareness among children about oral health, has touched the lives of 178 million children across the rural and urban landscape to date. The program focuses on children so that the message of good oral hygiene is carried home to families and the community at large. In the financial year 2019-20 alone, over 7 million children benefited from this program.
Colgate, along with its NGO partners, has been consistently contributing to the cause of water conservation, women empowerment, skill building, and education of children. The Keep India Smiling Foundational Scholarship Program launched in 2019 offers deserving candidates, who lack resources, foundational support through scholarships and mentorship in the fields of sports, academics, and community betterment programs. These initiatives have touched the lives of millions of people over time and continue to do so every day.
Colgate has been ranked as India's #1 Most Trusted Oral Care Brand for the ninth consecutive year, from 2011 to 2019, by The Economic Times - Brand Equity - Most Trusted Brands Survey, conducted by Nielsen. Colgate has also been ranked as the Most Trusted Oral Hygiene Brand by TRA's Brand Trust India Study Report for the ninth consecutive year, from 2011 to 2019.